Damage Revamp (2021)
On 19/10/21 a revamp of the Damage system, pertaining to Attacking, was released. As there are several major changes, this page is dedicated to helping you get acquainted.
Major Changes
The Damage Formula
The displayed damage value on your weapon is now exactly equal to the damage multiplier used when you fight someone.
If your fists have a damage value of 10, a weapon with a damage value of 50 will do 5x as much damage (assuming no other bonuses).

Note: Previously the "Damage" value on your weapon was complicated and unintuitive - it represented a value generated from an internal number that you never see as a player. This internal value was used in two separate calculations - one calculated the displayed weapon damage, the second calculated the actual damage multiplier used in fights.
Damage Modifiers
All Damage modifiers will now be added together into one passive value, which is displayed in a fight next to your battle stat passives.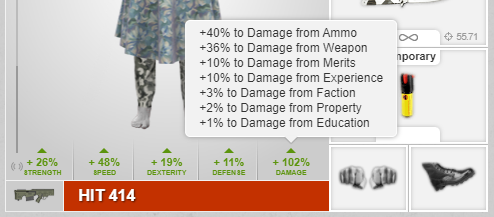 Note: Previously each damage modifier could be grouped into three categories, depending on where it was applied in the calculation. This process resulted in some bonuses being much weaker than others (for example weapon experience), and resulted in some bonuses being additive whilst others were multiplicative.
Mastery and Experience
Weapon Mastery will now provide a 1% damage bonus per upgrade, for a maximum of 10%.
Note: Mastery previously provided 2.5% per upgrade, for a maximum of 25%.
Weapon Experience will now provide a 10% damage bonus at 100% XP.
Note: Weapon Experience previously provided 25% at 100% XP - however this was applied in a logarithmic part of the calculation, and was thus equivalent to a bonus of around 2-3% for most typical weapons.
Weapon Base Values
Weapon Damage values now have a range of 5.00. E.g. if the base damage value is 50.00, you may see weapons of the same kind with up to 55.00 damage.
The only exception to this are Temporary weapons, where each temp of the same kind has a single damage value.
Note: Previously the damage range of a weapon was dependent on the aforementioned internal value that the displayed damage was generated from. Weapons ranged between the base internal value to base + 10% - e.g. a weapon with an internal base damage value of 500 could be seen with damage values generated from internal values between 500 and 550.

The table below describes the changes to each weapon's damage value.
The column "Old Displayed" is the base damage value for that weapon in the previous damage system.
The column "Old Equivalent" shows what that base damage value would be under the revamped damage system if the weapon were directly translated.
The column "New Multiplier" shows what the new base damage value / multiplier is after the revamp -- many have been changed.
The column "Buff / Nerf" calculates the percentage change in the base damage values from the old system to the new system.

Note: Many weapons may have nerfed base multipliers, however given their wider range of possible values - it is likely to generate weapons that will do more damage than they would have in the old system.
Minor Changes
The Anti Tank Primary weapon has been changed to the Type 98 Anti-Tank Secondary weapon. Clip size has been changed to 1, and Rate-of-Fire has been changed to 1-1.
The M249 PARA LMG Primary weapon has been changed to the M249 SAW. Base accuracy has been increased from 31 to 41.
---