Bookie
The Bookie is an area of the Casino. At the bookie, you can bet money on thousands of events daily across a wide variety of sports. Please note that all bets are final. Gone are the days of bookie banks.
Betting and Live Odds
You may place a bet on any event that the bookie lists, up to a maximum bet of $100,000,000 on a single outcome. You may place bets on as many outcomes as you wish for each event.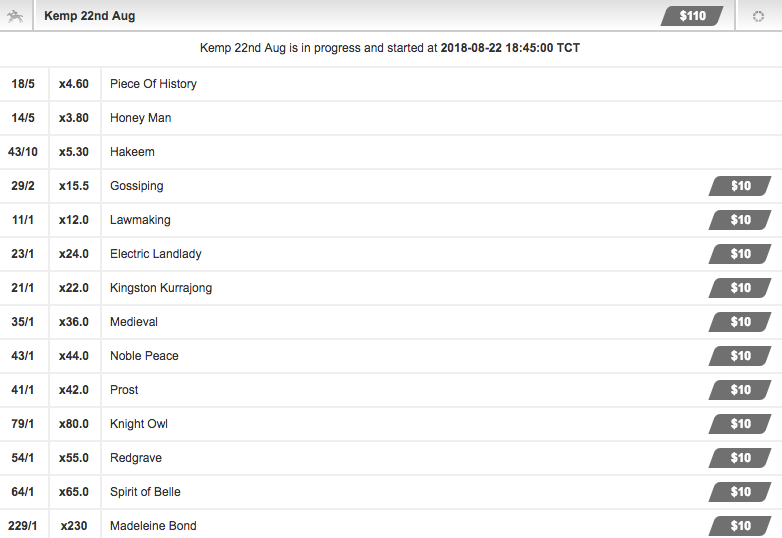 When you go to place a bet, you will be asked to confirm your selection and be notified of your potential profit. It is imperative to note once again that any bets you place are final, and cannot be un-placed.

Odds are taken from the real betting site Betfair, and thus may change to reflect live updates made on their site. This means that you can place multiple bets on the same outcome of the same bet, but at different odds.

Bets will be paid out according the odds at the time your bet is placed. If the odds change while you are in the process of placing a bet, you will be notified before the bet is placed.

Betting Outcomes
Once a result has played out in real life, you will receive an event for each bet you have placed informing you of the outcome and how much (if any) money you have made.

Winnings
Winnings can then be withdrawn from the main bookie page.

Single bets can be collected individually, or all winnings can be collected at once.

Any winnings will remain in the bookies indefinitely, which will also be calculated as part of your Networth.
Refunds
Occasionally a bet may be refunded. This may occur for a variety of reasons, but often because a match has been cancelled. In these cases, your bets will be refunded and can be collected the same way any winnings would be.
Where winnings are displayed in green, and losses in red, refunds are displayed in orange.

Historical Notes
Bookies 1.0 officially closed on 16/08/18
Over the lifetime of Bookies 1.0, Torn users lost $83,120,808,776,823
Patch History
Released prior to Patch list #1
---
Changed the Bookie betting cap from $10m to $100m per match
Here's the current sports the Bookie now provides: American Football, Baseball, Basketball, Counter-Strike, Cricket, Darts, Dota 2, Football, Ice Hockey, League of Legends, Rugby Union, Rugby League, StarCraft 2, Tennis.
Special betting options are now available! Odd & Even / Handicaps / Over & Under / 2-way & 3-way / e.t.c.
A limit of $10m still remains while we build confidence in the system, we're limiting risk as much as we realistically can. If all goes well after this release, increasing it to $100m will be the next step.
Added money held in Bookies 2.0 and Poker 2.0 to current networth calculation.
Added the first batch of special bets under specific sports in Bookie 2.0.
Changed Bookie 2.0 'Popularity' tab to simply show matches with the most bets.
Removed Bookie 2.0 $10m limit (now back to $1b).
Changed Bookies 2.0 to Sportsbook odds for higher quality bets.
Added Bookie 2.0 system to find best betting lines, ignoring insufficient ones (x1.01).
Increased Bookies 2.0 betting limit from $1,000,000 to $10,000,000.
Increased maximum bet to $1,000,000 for Bookies 2.0.
Added withdrawing of refunded bets in Bookie 2.0.
Opened Bookies 2.0 into a public beta.
---